Best Foods High in Vitamin K for People with Diabetes
Best Foods High in Vitamin K for People with Diabetes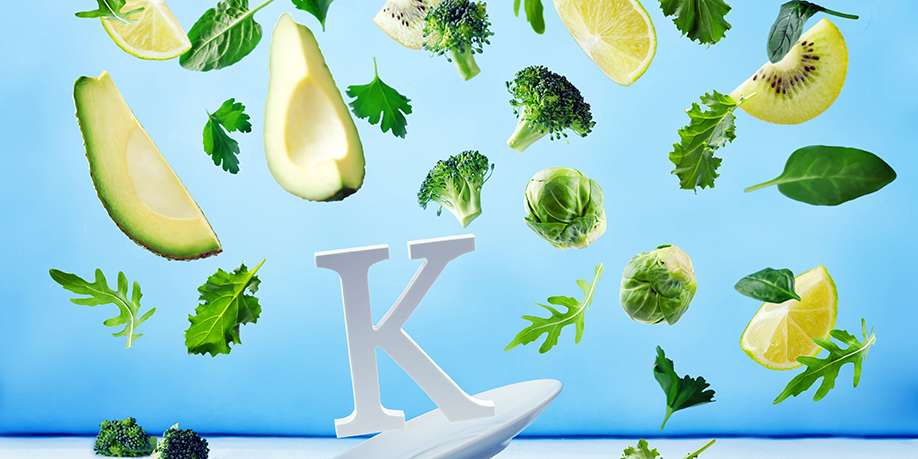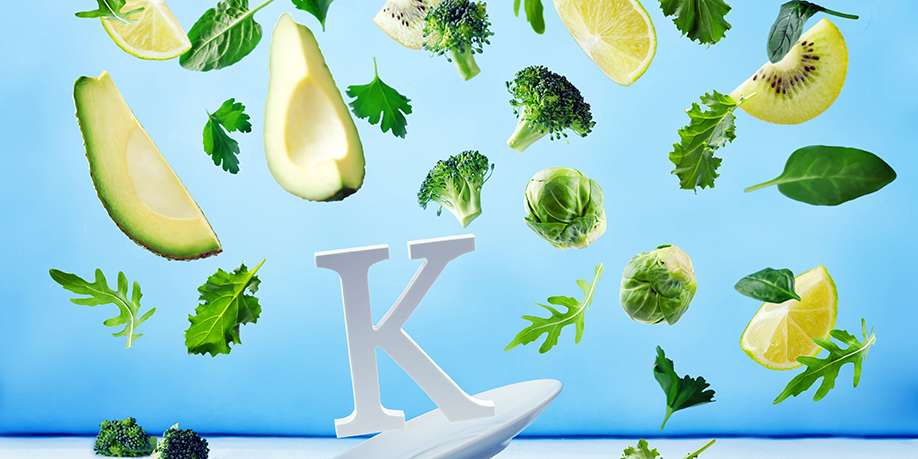 © Nataliya Arzamasova | Dreamstime.com
It's a well-known fact that one of the keys to successful diabetes prevention and management is a proper diet. You have to control your sugar and fat intake to keep the blood glucose levels and body weight under control. Consequently, some foods have to be avoided or consumed in moderation while some other foods should be introduced into your diet or consumption of them preferably to be increased. That's because nutrients contained in certain foods play a very important role in prevention and management of diabetes as well as the risks associated with the disease.
One of such nutrients is Vitamin K. Glucose intolerance and low insulin sensitivity often leads to the development of diabetic complications. According to studies, Vitamin K can significantly improve glucose tolerance, prevent insulin resistance, and reduce the risk of type-2 diabetes. Besides, Vitamin K can protect you against heart disease, improves blood clotting, promotes normal bone growth, and prevents osteoporosis.
This highly useful nutrient can be found in abundance in a number of natural foods, including spinach, kale, avocado, Brussels sprouts, broccoli, lettuce, soybeans, turnip greens, asparagus, parsley, beet greens, pumpkin, pine nuts, blueberries, soybeans, kiwi, edamame, cooked green beans and cabbage, sauerkraut, prunes, blackberries, pomegranate, pickles, and collard greens. Plants are not the only good source Vitamin K. You can also get it from meat products, such as chicken, pork chops, bacon, beef, pork, and chicken liver, ground beef, and duck breast, as well as from dairy products, among which are hard cheese, Jarlsberg Cheese, Edam cheese, soft cheese, blue cheese, cheddar, egg yolk, milk, cream, and butter.
With such a broad availability of Vitamin K containing foods, there are many dishes that you can enjoy while getting a boost of Vitamin K along the way. We also would like to suggest you a few of our favorite recipes made with ingredients rich in Vitamin K. We believe you will enjoy them!






Avocado, Kiwi and Brussels Sprouts Salad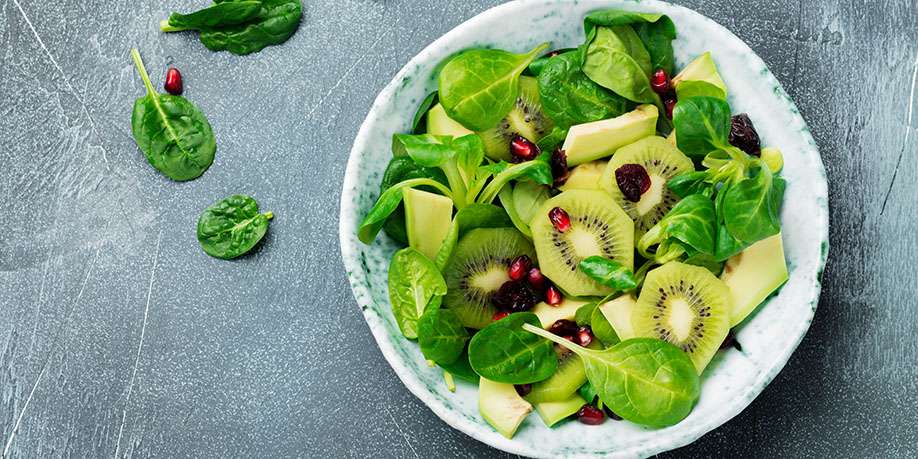 Healthy and juicy salad with kiwi, avocado, Brussels sprouts, and cucumbers is a true delight! Sesame oil and seeds give this diabetic-friendly salad an oriental flavor.
Green Beans with Garlic and Soy Sauce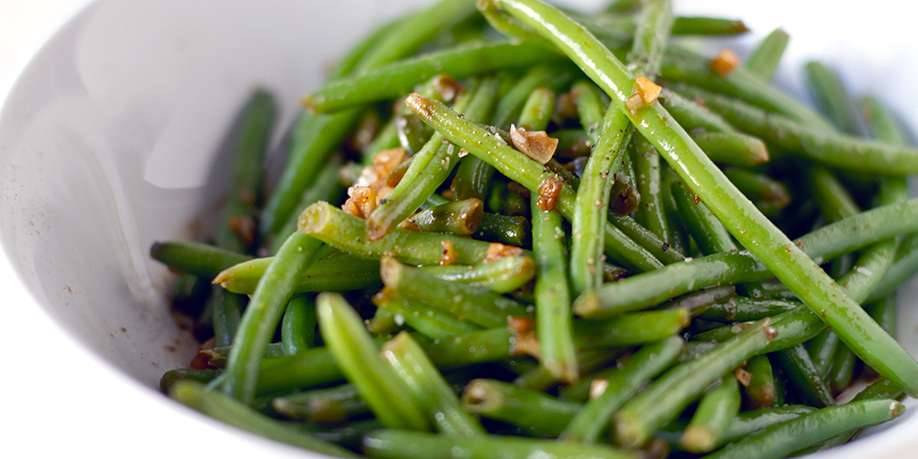 If you need a quick and easy to make diabetic-friendly side dish, than this recipe will perfectly fit the purpose.
Chicken Liver with Mushrooms and Cream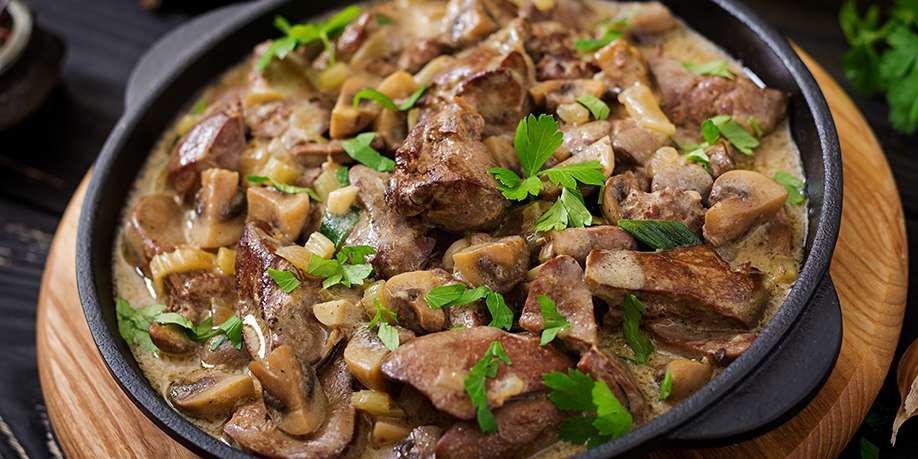 Chicken liver is recommended for people with diabetes, especially for those, who suffer from the slow blood clotting and whose wounds take long time to heal. The creamy sauce makes this diabetic-friendly dish tender, juicy and distinctively tasty!
Pumpkin Baked with Rice and Chicken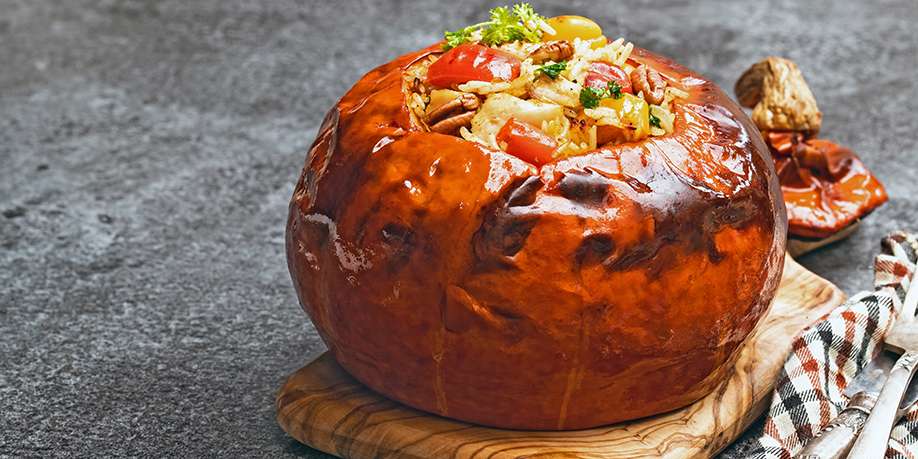 Pumpkin is a very healthy food that helps controlling blood sugar levels due to its rich content of nutrients. Pumpkin baked with basmati rice and chicken makes a delicious and diabetic-friendly dinner dish that pleasantly surprise your guests.
Pork Chop with Mustard Sauce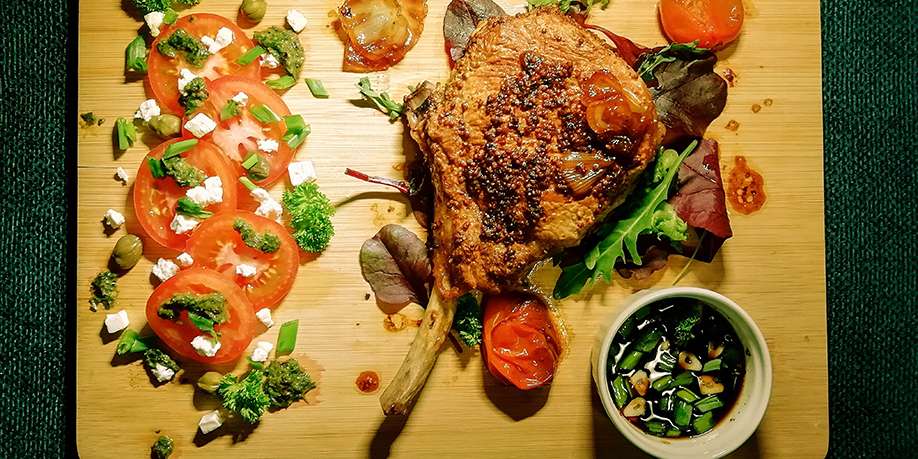 A savory, delicious, and diabetic-friendly, this dinner entrée is a real treat for the whole family!
Cabbage and Broccoli Salad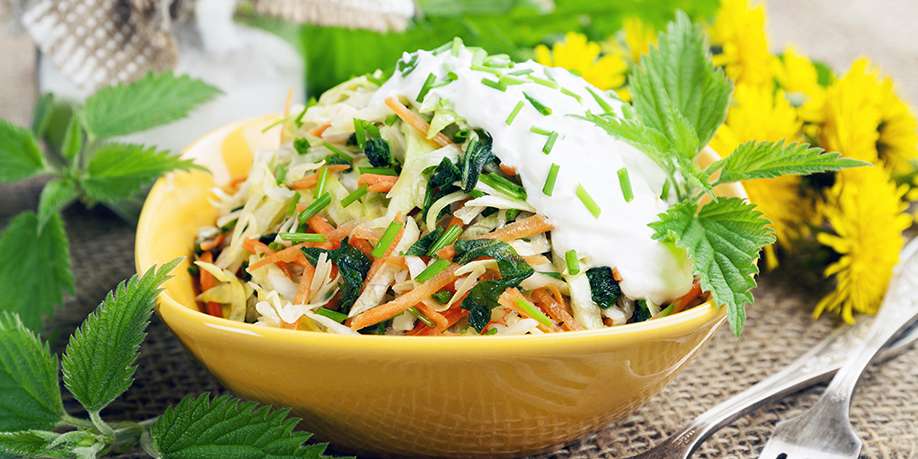 When it comes to eating healthy and diabetic-friendly food, you can't go wrong with vegetable salads. There are so many vegetable combinations that can make a delicious salad and practically all of them are packed with vitamins! Here is a recipe for one of such salads.
Mango and Chicken Liver Salad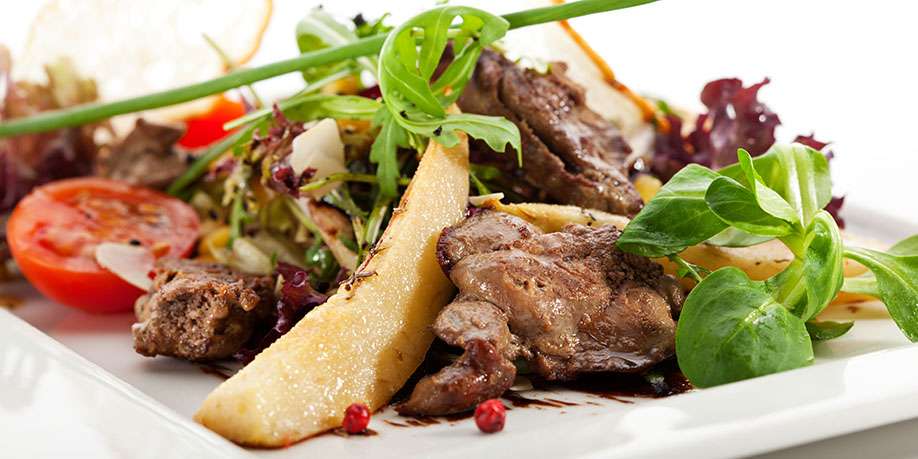 A very delicious diabetic-friendly salad for liver lovers! It is so filling, it can serve as a main course.
Asparagus, Bell Pepper and Cauliflower Salad with Spinach and Olives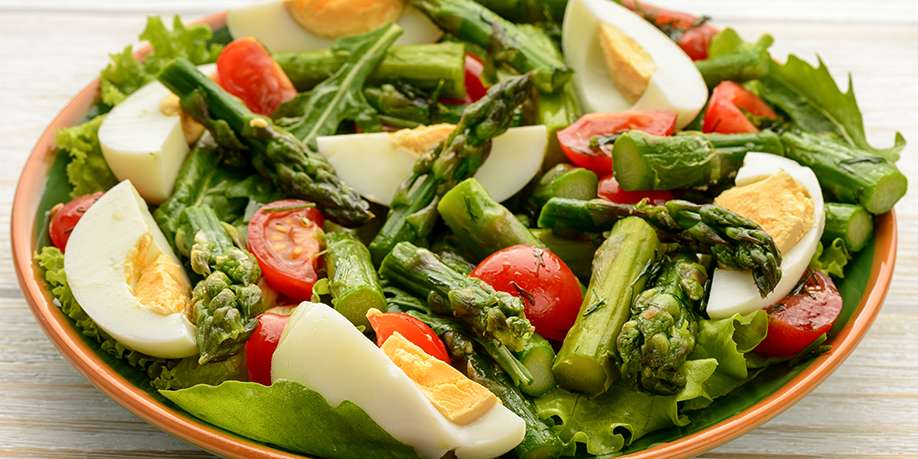 This diabetic-friendly salad is a perfect harmony of taste and health benefits.
Tacos with Beef and Vegetables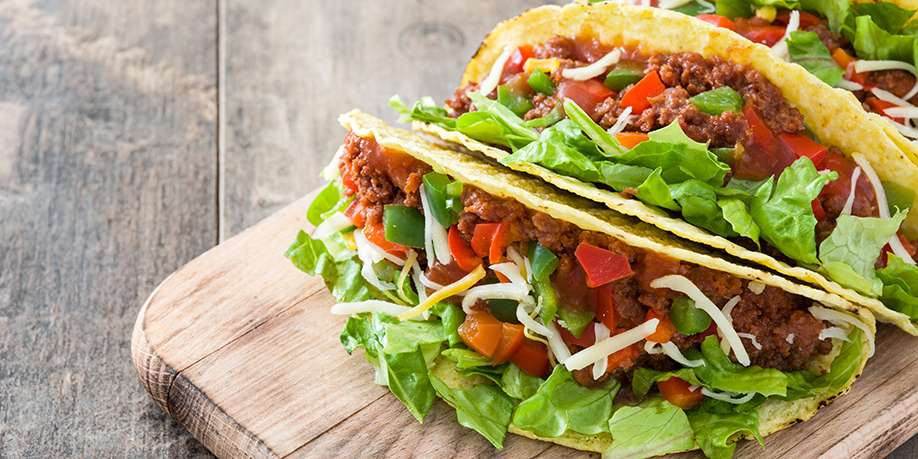 Tacos with meat and vegetables are so flavorful and delicious, they can easily become your new favorite diabetic-friendly dish to make for dinner!
Kohlrabi and Pine Nuts Salad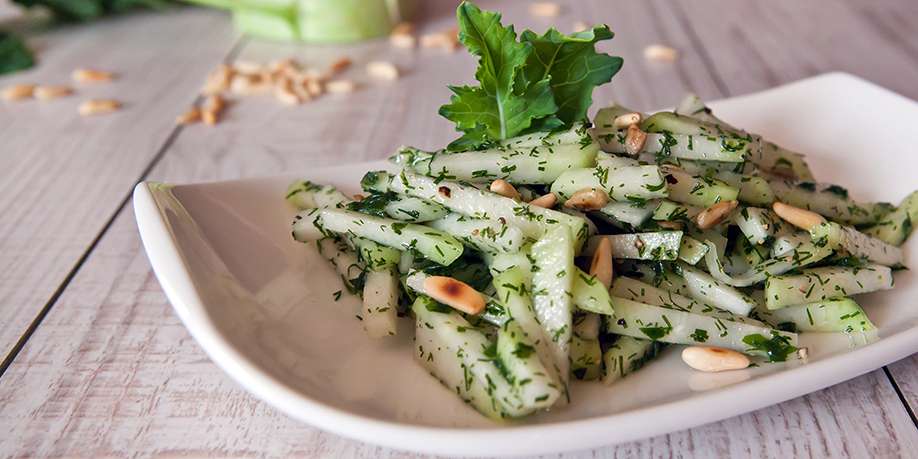 This is a simple salad with unique taste. Made with diabetic-friendly ingredients, kohlrabi and pine nuts salad not only tasty, but very healthy as well – a valuable addition to your lunch and dinner menu!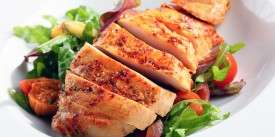 Best Chicken Breast Dishes for People with Diabetes – Everything You Need to Know
Read Next >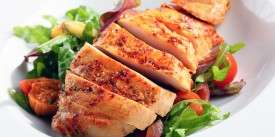 Best Chicken Breast Dishes for People with Diabetes – Everything You Need to Know
Next >










Do you have any questions about your diabetes condition or general questions about diabetes? You can now post those questions in DiabetesIQ Forum and have our diabetes experts answer your questions for FREE! Yes, there is absolutely no catch! - Registration only takes a few seconds and it's FREE. No credit card needed. You can ask any number of diabetes questions, all for FREE! Register today and join the conversation!