Steaks for People with Diabetes – Everything You Need to Know
Steaks for People with Diabetes – Everything You Need to Know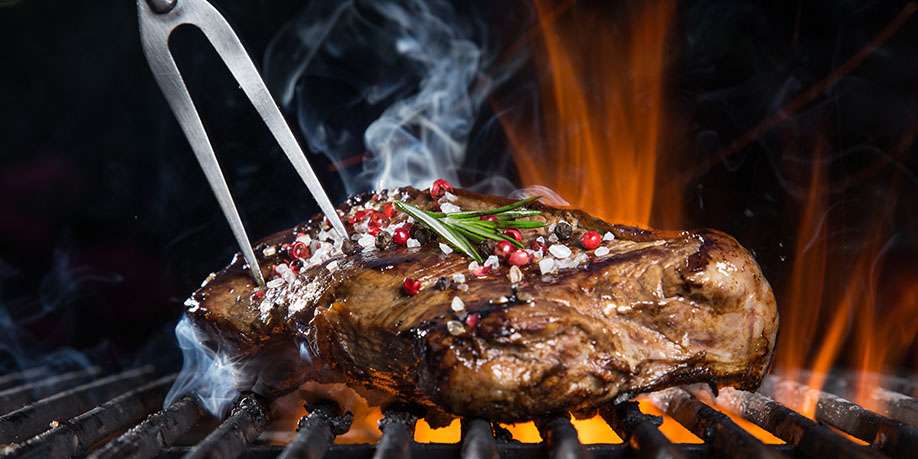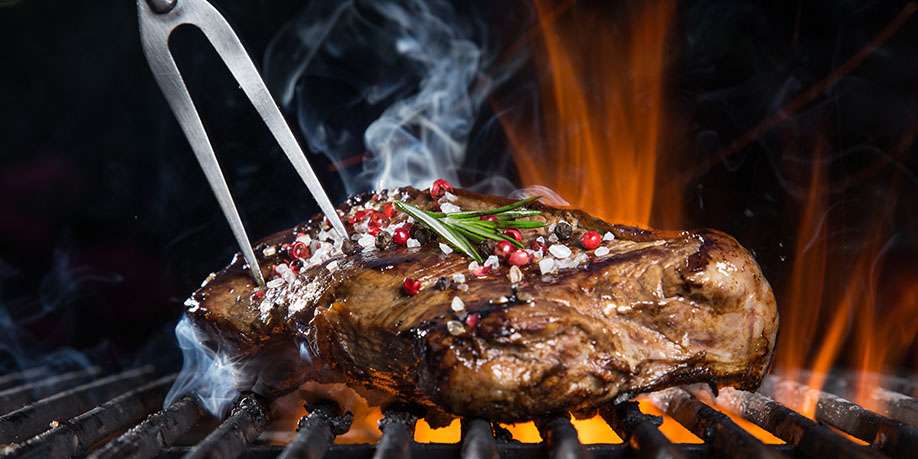 © Lukas Gojda | Dreamstime.com
Once you've been diagnosed with diabetes, you have to start constantly monitoring what you eat. Very soon you realize that some foods, quite a few of them, actually, become off limits to you due to high carb and fat content. Sugary sodas, fatty sauces, and many pastas and desserts all of a sudden find themselves on your fairly substantial list of now forbidden foods.
Your diet should be well-balanced, which means proteins should be a part of it. Red meat is one of the traditional sources of protein. However, it doesn't mean that all meats are good for you. For example, you'd better stay away from processed meats, such as cold cuts, breaded meats, or meats with large amount of saturated fat, such as bacon.
Nevertheless, you don't have to take a good ol' steak off the menu! It's in your best interest to go for leaner cuts, such as filet mignon, rather than fattier ones. Plus, if you like your stake enhanced with some rich and flavorful sauce or gravy, you have to always be aware of what it is made of, as sauces often have a large content of sugar.
Here are some of our favorite steak recipes:
Beef Steak with Fried Cherry Tomatoes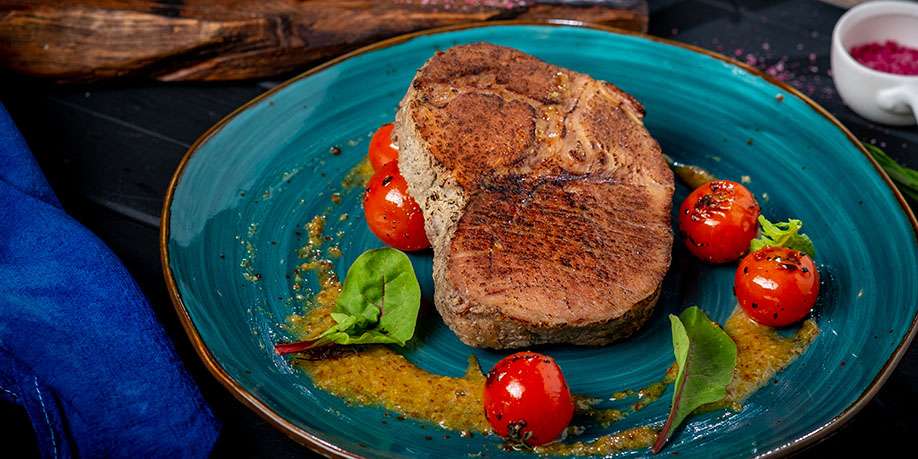 In this tasty diabetic-friendly recipe, a beef steak is perfectly fried and baked and then topped with fried tomatoes.
Beef Steak with Mushrooms and Madeira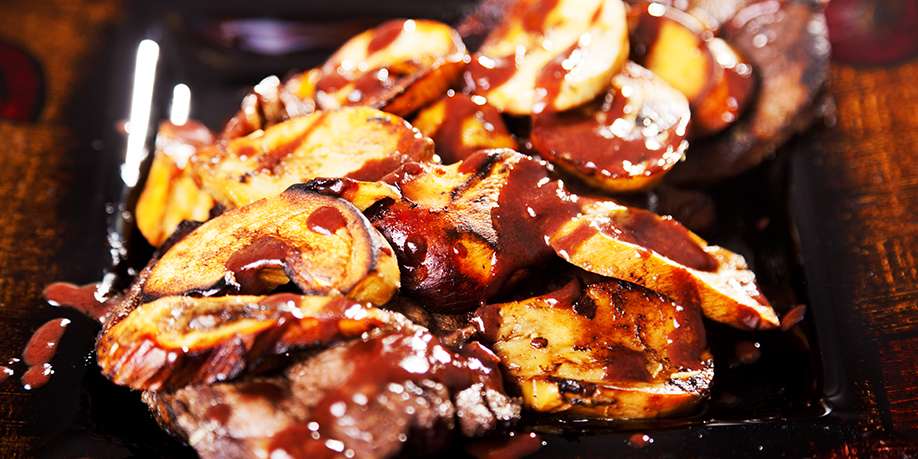 A great diabetic-friendly recipe for filet mignon. The combination of wine and mushrooms give the meat a unique, delicious flavor.
Steak with Figs and Apples in Wine Sauce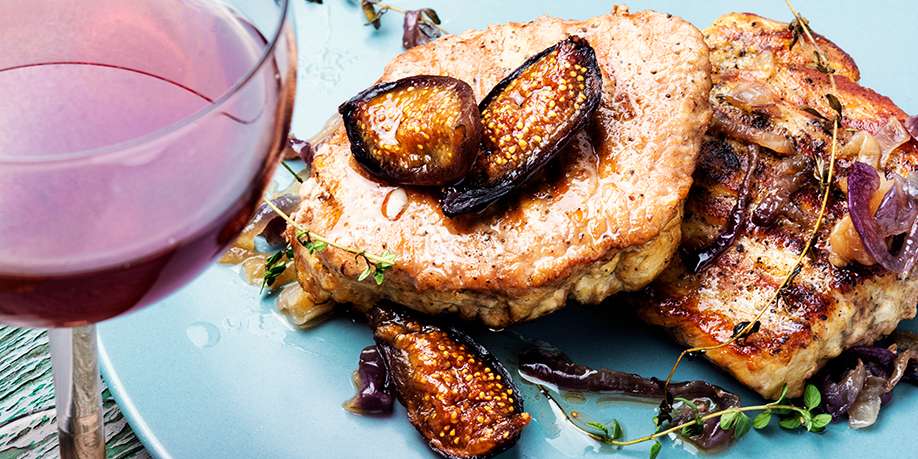 This is a recipe for a diabetic-friendly main entrée bursting with flavor. – An amazing special occasion dish!
Tenderloin Steak with Cherry Sauce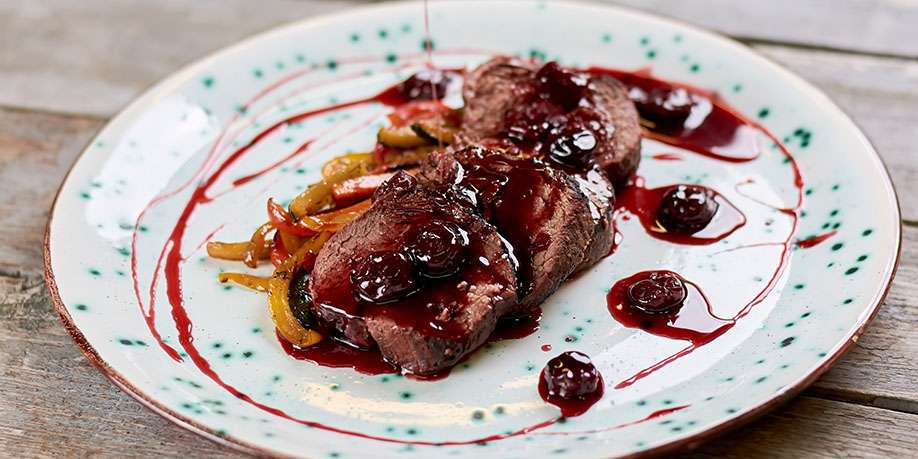 This diabetic-friendly dish is a perfect choice for a special occasion!
Beef Steak in Chimichurri Sauce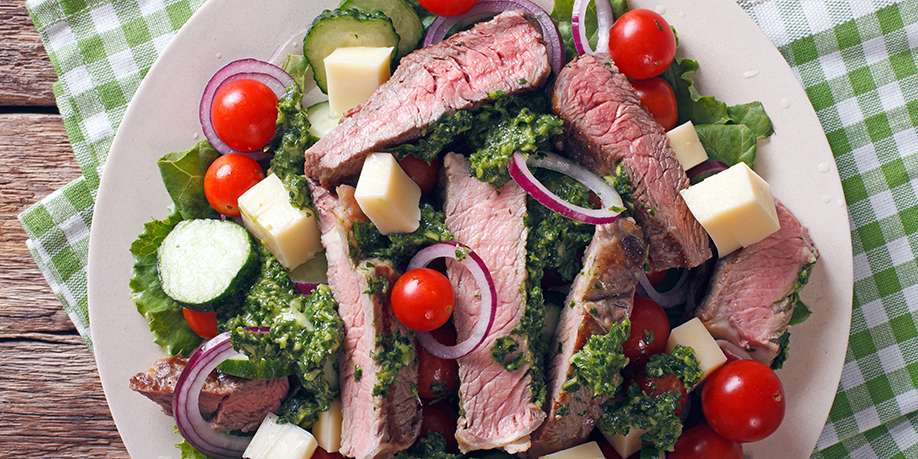 Beef steak cooked with green chimichurri sauce and vegetable salad that is dressed with the same sauce is a great diabetic-friendly entrée with delicious and unique taste.
Besides, having a steak does not necessarily mean eating a chunk of red meat. There are other, healthier, more diabetic-friendly options available out there. You can perfectly enjoy a salmon steak, turkey steak, tuna steak, and even a cauliflower steak, in case you are willing to take a break from the meat.
Here are our favorite recipes for such steaks:
Salmon Steak with Broccoli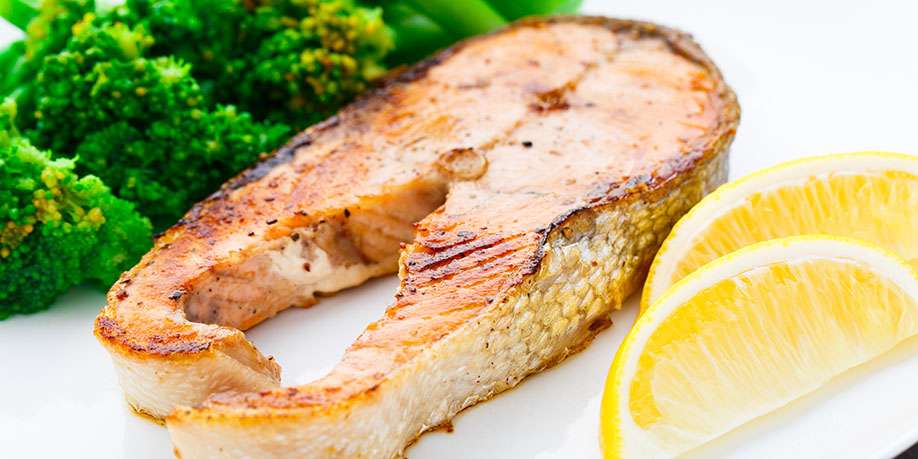 A healthy and diabetic-friendly dinner entrée that is quick and easy to cook and tastes better than salmon you get in a restaurant!
Turkey Steak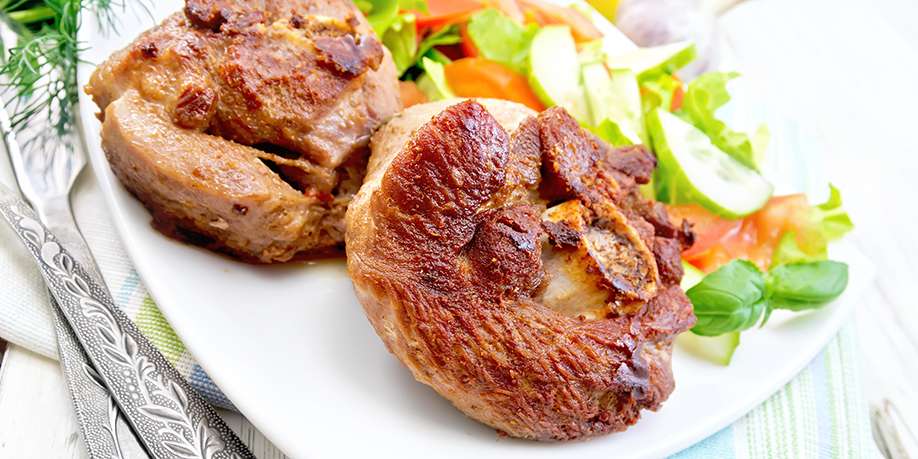 Want to enjoy a steak, but want to eat healthy too? – Try this recipe for a delicious and diabetic-friendly turkey steak. It's easy to cook and comes out just great. A wonderful dinner entrée for everyday or a special occasion!
Tuna Steak with Brussels Sprouts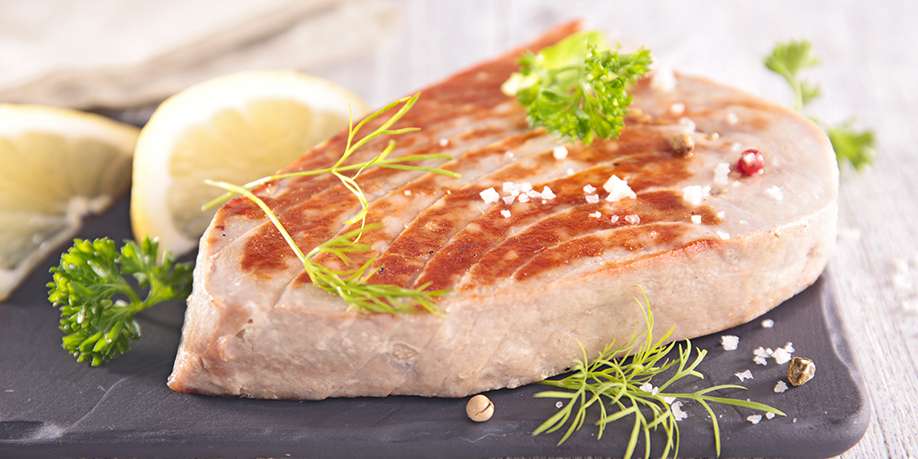 This diabetic-friendly dinner entrée is very delicious and flavorful. The fish is marinated because tuna absorbs and retains the aromas of sauces and marinades very well, and Brussels sprouts perfectly complements the fish.
Tuna Steak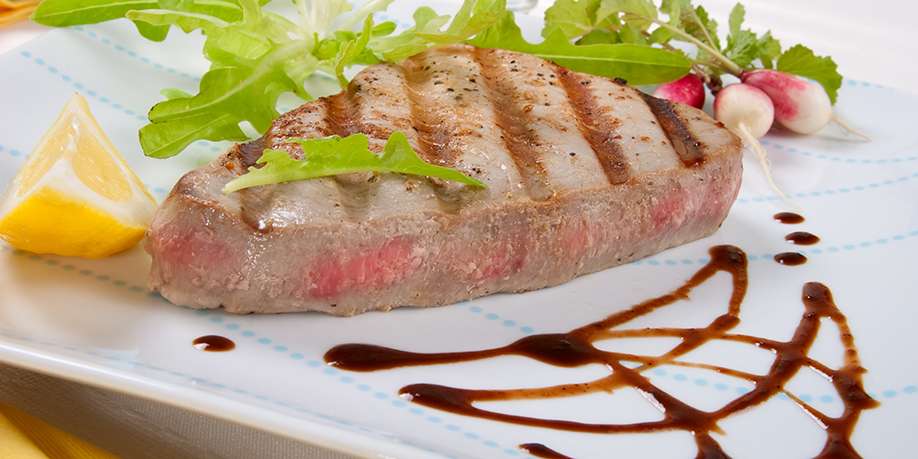 This diabetic-friendly recipe is for a delicious tuna steak that turns out to be very tender and juicy. This steak is perfect with salads, vegetables, and any side dishes. Serving it warm or cold makes it equally tasty.
Baked Cauliflower Steak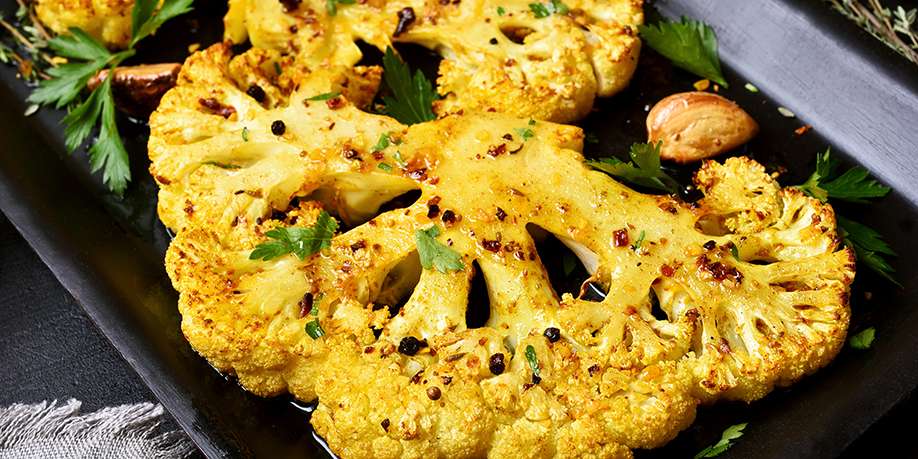 A healthy, diabetic-friendly dish ready in just 25 minutes – an awesome dinner entrée for those, who took meat off their dinner menu. And for meat lovers – a delicious side!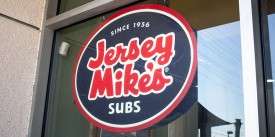 Jersey Mike's for People With Diabetes - Everything You Need To Know!
Read Next >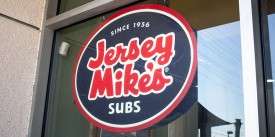 Jersey Mike's for People With Diabetes - Everything You Need To Know!
Next >










Do you have any questions about your diabetes condition or general questions about diabetes? You can now post those questions in DiabetesIQ Forum and have our diabetes experts answer your questions for FREE! Yes, there is absolutely no catch! - Registration only takes a few seconds and it's FREE. No credit card needed. You can ask any number of diabetes questions, all for FREE! Register today and join the conversation!