Best Beef for People with Diabetes – Everything You Need to Know
Best Beef for People with Diabetes – Everything You Need to Know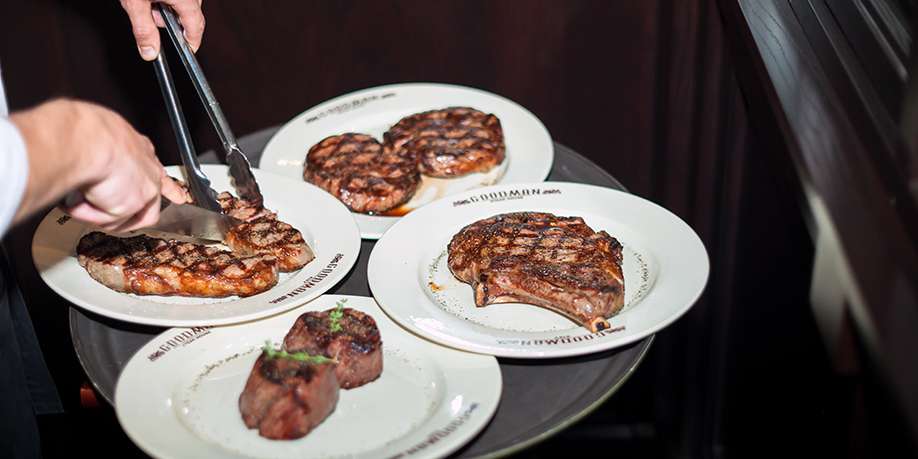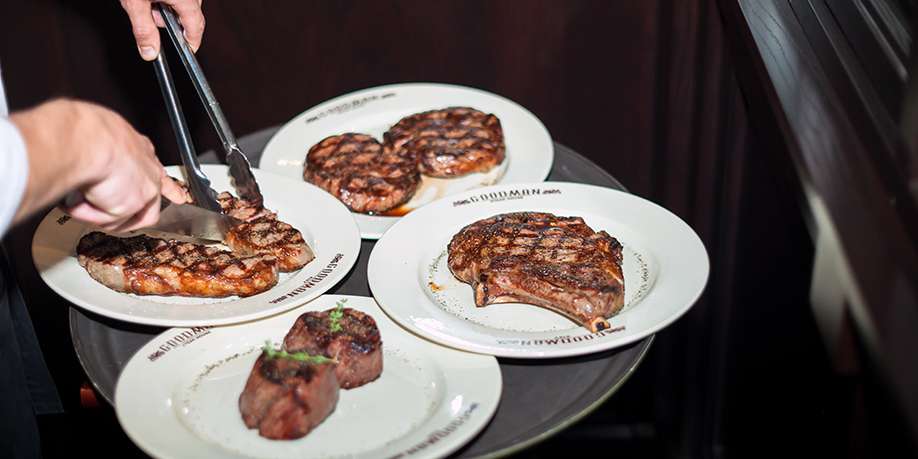 © Vitalii Turchyn | Dreamstime.com
Generally speaking, red meat and particularly beef is not the best food choice for people with diabetes. It doesn't mean that beef dishes should be completely ruled out, but due to the high content of saturated fat that can raise cholesterol level and increase the risk of developing heart disease, beef should be consumed in moderation.
Besides, to effectively reduce consumption of saturated fats, your best strategy would be to stick to the most lean cuts of beef such as tenderloin, top sirloin, top round, eye of round roast, and bottom round. These cuts contain 2 g of saturated fat and 5 g of fat per serving of 3.5 Oz. You can also enjoy a shoulder roast, a strip steak, and 95% lean ground beef. They contain about 4 g of saturated fat and less than 10 g of fat per 3.5 Oz serving. With less than 95 mg of cholesterol in these cuts of beef per serving, it will be easier for you to maintain your blood cholesterol level.
The lean cuts of beef are not only healthy, but very tasty as well. You can easily find plenty of delicious diabetes-friendly recipes with lean beef. Here are a few of our favorite ones.
Beef Steak in Chimichurri Sauce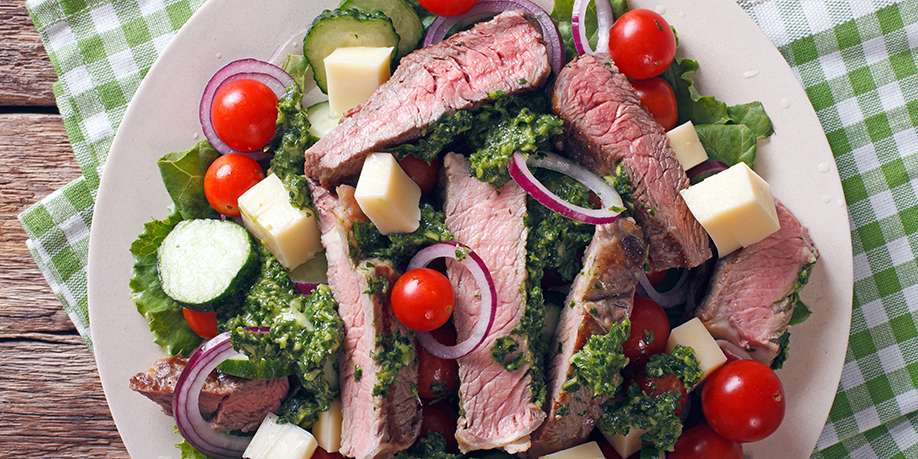 Beef steak cooked with green chimichurri sauce and vegetable salad that is dressed with the same sauce is a great diabetic-friendly entrée with delicious and unique taste.
Stewed Beef with Orange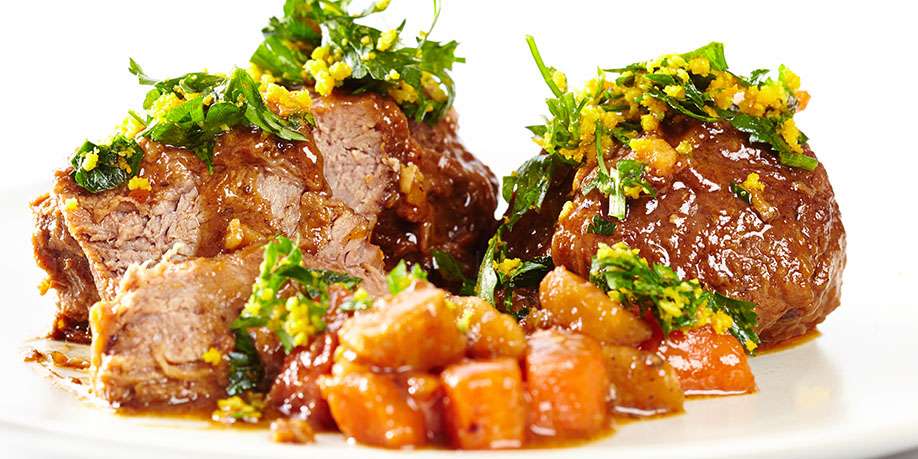 This is a diabetic-friendly recipe for a beef stew with a uniquely fresh flavor, thanks to orange and lemon juices and zest.
Beef Stroganoff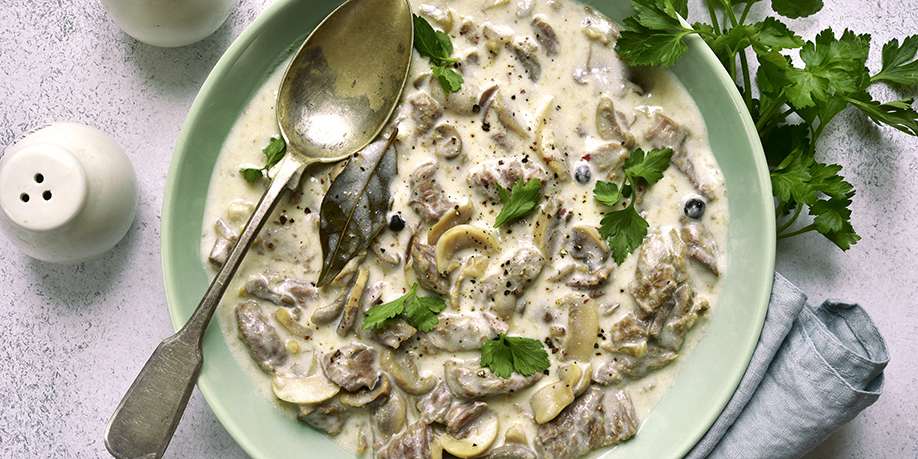 Beef Stroganoff is a tender beef with mushrooms in sour cream sauce – a gourmet, diabetic-friendly dish that can be a great treat for the entire family.
Beef with Beans in Tomato Sauce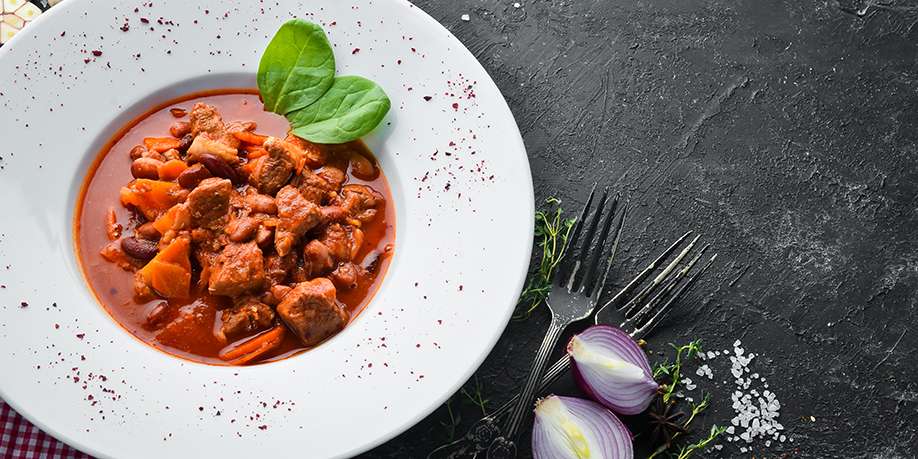 Beef with beans in tomato sauce is a very tasty diabetic-friendly dish that is very easy to cook. To speed up the preparation of the dish, we use canned beans, but you can use dried beans and tomato paste if you wish. – Just soak the beans for several hours before cooking and boil until soft before starting cooking the dish.
Beef in Dark Beer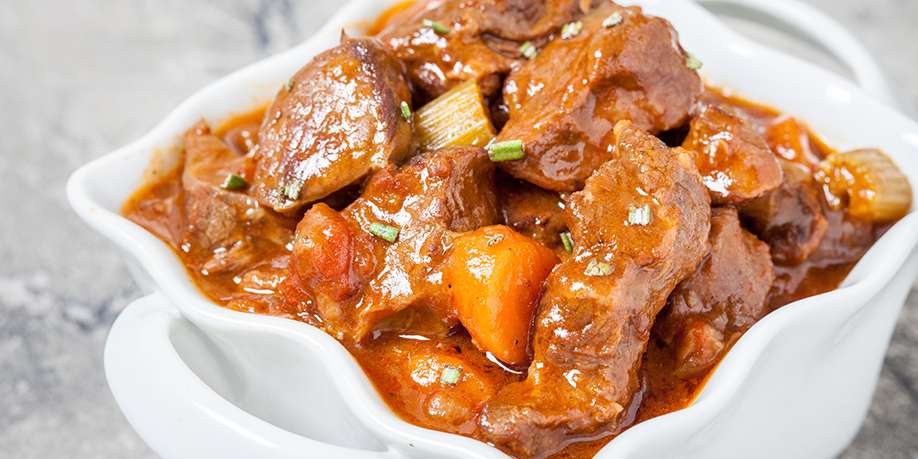 If a traditional beef stew seems boring, try this diabetic-friendly recipe of beef in dark beer and tomato sauce. The dish turns out amazingly flavorful, savory and anything but boring! A wonderful main course for the whole family!
Beef with Soy Sauce and Vegetables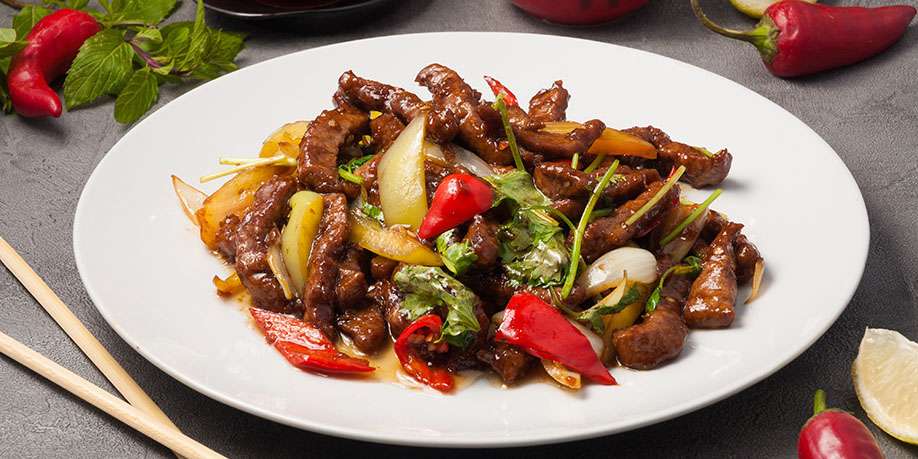 This recipe gives you a perfect quick main entrée for dinner. It is tasty, filling, diabetic-friendly, and can be complemented with any side dish of your choice.
Beef Stew with Red Wine and Mushrooms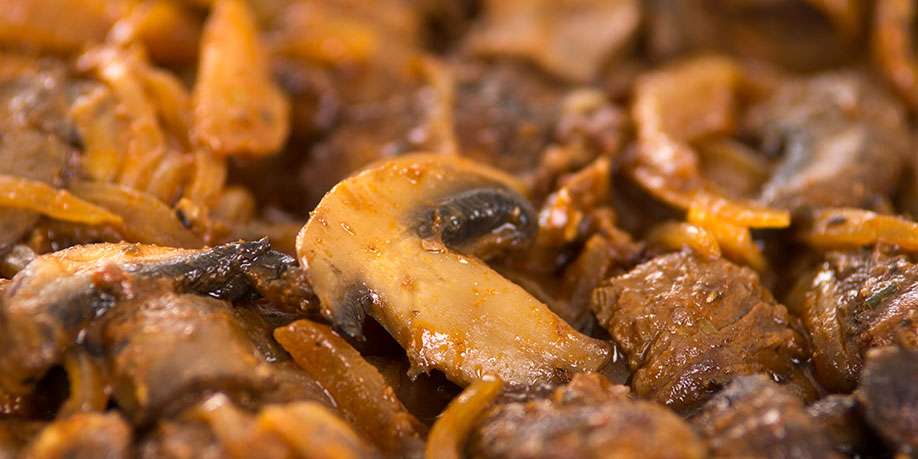 This is a diabetic-friendly recipe for a hearty and rich beef stew with mushrooms.
Beef Tenderloin with Port and Rosemary Sauce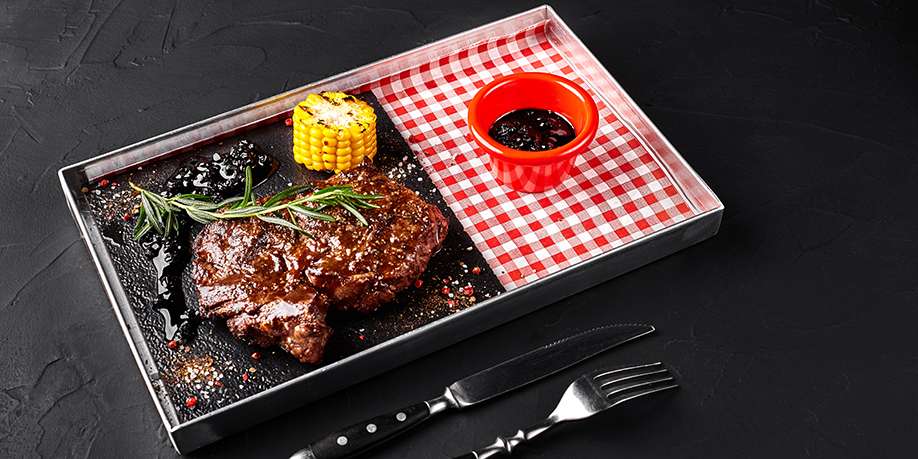 Treat your family and guests to this diabetic-friendly restaurant-grade main entrée. Just make sure to cook enough because they will be asking for more!
Beef Roll-Up with Mushrooms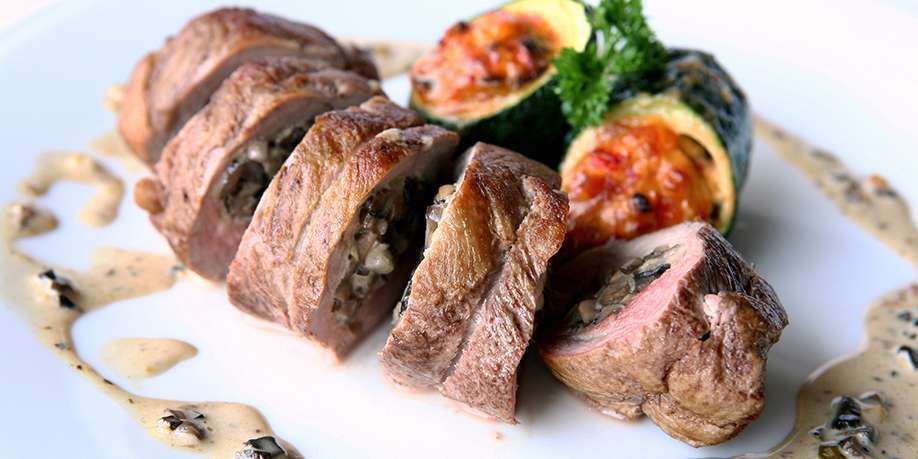 A perfect diabetic-friendly holiday treat for all meat lovers!
Beef Medallions in Cognac Sauce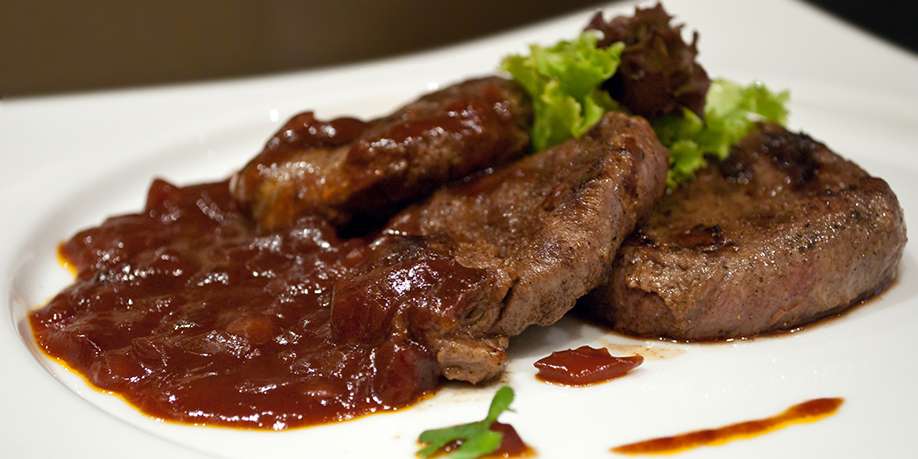 This is a diabetic-friendly recipe for an extremely flavorful and also easy to cook main entrée – a wonderful treat for your family and guests!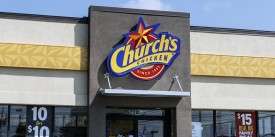 Church's Chicken for People with Diabetes - Everything You Need To Know!
Read Next >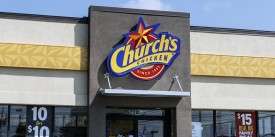 Church's Chicken for People with Diabetes - Everything You Need To Know!
Next >










Do you have any questions about your diabetes condition or general questions about diabetes? You can now post those questions in DiabetesIQ Forum and have our diabetes experts answer your questions for FREE! Yes, there is absolutely no catch! - Registration only takes a few seconds and it's FREE. No credit card needed. You can ask any number of diabetes questions, all for FREE! Register today and join the conversation!